På gensyn til NKS2025 i Norge!
Planlægningskomiteen vil gerne sende en tak for den store opbakning der var til dette års Nordiske Kongres i Synspædagogik, der blev afholdt 7. – 9. september 2022 i Billund. 275 fagfolk var samlet til nogle fantastiske dage med spændende hovedforelæsere, workshops og posterpræsentationer. Tak til alle jer der bød ind og afholdt workshops for nordiske kolleger!
Vi vil også gerne sende en stor tak til Nordisk Ministerråd, for det tilskud til kongressen, der gav os mulighed for at tilbyde en reduceret early bird pris.
Vi glæder os meget til at se Jer alle igen i 2025 i Norge.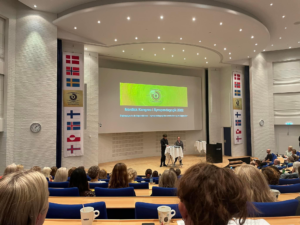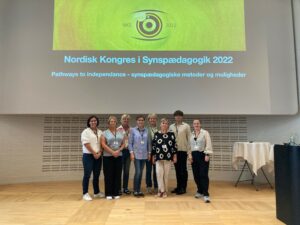 ---
Programændring:
Vi har desværre fået et afbud fra vores ene hovedforelæser!
Vi er meget taknemmelige for, at Helle K. Falkenberg, Professor ved ved Universitetet i Sørøst-Norge, trods den meget korte varsel, har takket ja til at holde en hovedforelæsning.
Program change:
Unfortunately, we have received a cancellation from one of our keynote speakers!
We are very grateful that, despite the very short notice, Helle K. Falkenberg, Professor at the University of South-Eastern Norway, has agreed to give a keynote presentation.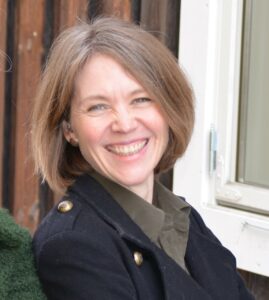 "Invisible" visual impairments – implementing vision assessment in stroke care.
Helle K. Falkenberg, Professor, National centre for optics, vision and eye care, Department of optometry, radiography and lighting design, University of South-Eastern Norway
The leading cause of brain disorder is stroke, and visual impairment (VI) affects more than 60% of all stroke survivors. In Norway and Denmark, approximately 12,000 people are affected by stroke each year, in Sweden over 25,000. The most common VIs include visual field loss, eye movement disorders, reduced visual acuity and perceptual deficits such as neglect.
VI is associated with increase in falls, reduced outcomes of rehabilitation, activities of daily living, fatigue and mental distress.
Failing to identify VI after stroke can have a severe negative impact on the persons's coping, further recovery and quality of life. Learning to live with a visual loss is a comprehensive and complex task closely intertwined with existential and social aspects. Regardless of severity, much can be done to recover from or improve VI through vision rehabilitation. Several studies conclude that assessing visual functions will raise self-awareness, that visual compensatory training is useful for vision outcomes, for rehabilitation of other consequences of stroke and the overall rehabilitation process. Despite this, impaired vision is one of the most commonly overlooked and under-treated conditions following stroke, and there is a lack of awareness, attention and competence among stroke specialists and municipal health care services in this subject.
One reason is that many people do not think that it is related to the stroke, and many people do not know that such sudden changes in vision can be a sign of an acute stroke that requires rapid admission to hospital for optimal treatment. Another problem is that vision problems are often poorly identified and treated while they are in hospital, and that there is a lack of provision for vision rehabilitation after discharge. Therefore, vision assessment is necessary to identify vision problems and referral for further treatment, rehabilitation and follow-up. Further it is necessary to collaborate across health- education and welfare disciplines and sectors.
This talk will present our experiences with working together to implement structured vision assessment, how this knowledge is used in the Norwegian Vision in Stroke (NorVIS) network, new research and an example on a priority setting partnership to identify new research areas from stroke survivors, their family and professionals.
---
Gratis adgang til LEGOLAND / Free acces to LEGOLAND
Ved NKS2022 deltager over 250 tilmeldte synsprofessionelle fra hele norden, og vi glæder os til at byde velkommen på LEGOLAND Hotel og konference den 7. til 9. september 2022!
Med tilmeldingen til NKS2022 følger en gratis adgang til LEGOLAND Billund resort. Billetten er gyldig i forbindelse med kongressen i parkens åbningstid fredag d. 9. september 2022.
At NKS2022, over 250 registered low vision professionals from the nordic contries will participate, and we look forward to welcoming you to the LEGOLAND Hotel and conference on the 7th to 9th September 2022!
Registration for NKS2022 includes one free access to LEGOLAND Billund resort. The ticket is valid in connection with the congress during the park's opening hours on Friday 9 September 2022.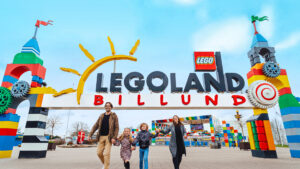 ---
Har du en poster præsentation?
Er du tilmeldt NKS2022, og har lyst til at stå med en poster præsentation torsdag d. 8. september, i pausen kl. 10.30-11.00 og igen kl. 15.05-15.45, så vil vi meget gerne høre fra dig. Send os en mail på info@nordisksynkongress.com
---
Vi kan med glæde offentliggøre den sidste af vores i alt 7 hovedforelæsere ved NKS2022 Camilla Ryhl / We are pleased to announce the final of our 7 Keynote speakers at NKS2022 Camilla Ryhl:
Camilla Ryhl, Research Director, Bevica Fonden, Denmark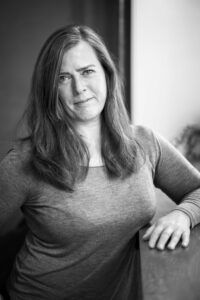 Universal design – a new possibility
The talk will introduce Universal design as a potential for a new and interdisciplinary way of considering users, abilities and equality.
Universal design offers a new approach to understanding user needs, diversity in abilities and human beings in general. It is a fairly new concept, often mis-interpreted as a new version of 'disability access' and not as it was originally intended; a whole new take on how we design for equality and dignity. Furthermore the talk will present Universal design as a key means to ensure the pledge to Leave No One behind, which is a core principle of the UN Sustainability Development Goals and the 2030 Agenda.
---
Det glæder os at kunne annoncere psykolog Anne-Sofie Jensen Zastruzny fra IBOS – Instituttet for Blinde Og Svagsynede i Denmark som hovedforelæser ved NKS2022. / We are pleased to announce psychologist Anne-Sofie Jensen Zastruzny from IBOS – the Institute for the Blind and Visually Impaired in Denmark as keynote speaker at NKS2022.
Anne-Sofie Jensen Zastruzny: Social skills in young people with visual impairments – and the challenges that may follow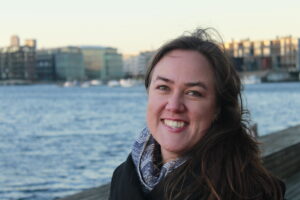 Social skills are ubiquitous in all our interpersonal relations and interactions. Whether it be greeting someone on the street, interacting with fellow students or coworkers, or establishing friendships. Social skills are not innate abilities, they are developed and adjusted throughout our lives both verbally and through nonverbal signals and observations.
Research shows that young people with visual impairments have more difficulties compared with their non-visually impaired peers in social skills. As a result, they often experience a lack in social relations and loneliness. It is therefore important for both the young person but also people around them to have a focus on aiding the development of social skills.
My talk will elucidate the scope of the challenges and will present methods to how we as professionals can help and support the development of social skills. My talk will be based in the latest development in research as well as personal experiences from working with young people with visual impairments.
Se vores øvrige hovedforelæsere, workshops, udstillerliste mv her på hjemmesiden / See our other Keynote speakers, workshops, exhibitor list on this website.
---
Med stor glæde kan vi nu annoncere Nordisk Kongres i Synspædagogik den 7. – 9. september 2022 i Billund, Danmark på LEGOLAND Hotel & Konference, Aastvej 10B, 7190 Billund
Jubilæum – velkommen til den 10. Nordiske Kongres i Synspædagogik, der henvender sig til fagpersoner, som arbejder med mennesker med synsnedsættelse eller blindhed i alle aldre.
Samfundsdeltagelse og inklusion er vigtige at have fokus på i et samfund, hvor der er en tendens til øget individualisering. Der stilles højere krav til mennesket om selvstændighed og uafhængighed. Hvordan kan synsprofessionelle medvirke til at skabe lige betingelser for mennesker med synsnedsættelse eller blindhed i alle aldre i forskellige situationer og arenaer?
Synspædagogik er et tværfagligt vidensområde under stadig udvikling. Det er nødvendigt at rette opmærksomheden mod ny viden og forskning, herunder individuelle tilpasninger og kompensation samt tilgængelighed i det omgivende miljø. I det synspædagogiske arbejde bør dette gøres praktisk anvendeligt for at understøtte inklusion af mennesker med synsnedsættelse eller blindhed. Med kongressen ønsker komitéen at skabe rum for erfaringsudveksling og vidensdeling mellem fagpersoner fra de nordiske lande.
Nordisk Kongres i Synspædagogik vil indeholde forelæsninger, posters og workshops. Udstillere inden for synskompenserende hjælpemidler og teknologi vil være til stede.
Der er nu åbnet for tilmelding: Pris 5690,00 DKR (Early bird pris gældende kun de første 200 tilmeldinger! – Early bird er udsolgt). Herefter pris 7025,00 DKR (Regulær pris). 
Her på hjemmesiden kan du læse mere om kongressens keynote forelæsninger, workshops, udstillere mv. Informationen opdateres løbende!
Tilmelding til kongressen: https://ibos.nemtilmeld.dk/126/
---
It is with great pleasure we announce The Nordic Congress in Low Vision on September the 7th- 9th 2022in Billund, Denmark, held at LEGOLAND Hotel & Konference, Aastvej 10B, 7190 Billund.
Jubilee – Welcome to the 10th Nordic Congress in Low Vision! The congress addresses professionals working with people, children and adults, in the field of blindness and low vision.
In a time where we experience an augment on more individualistic demands, it is important to emphasize on inclusion and social participation. Living an independent life, is a principal in modern society, and is highly valued. How can professionals in the field of blindness and low vision contribute to initiate equal conditions in various communities for people with blindness and low vision?
The field of blindness and low vision is in constant change. It is of great importance to draw attention to knowledge and research. The aim is to contribute to equal conditions for people with blindness and low vision and enhance independence and inclusion. The congress will be an opportunity for Nordic professionals to meet and exchange experiences from both the practice- and science field.
At the congress, there will be presentations through lectures, posters and workshops. Exhibitors and retailors in low vision technology and aids will be present during the congress and situated in the exhibition area.
Registration is now open: Price 5690.00 DKR (Early bird price only applies to the first 200 registrations! – Early bird is sold out)). Then price 7025.00 DKR (Regular price).
You can find relevant information on this website about the congress keynote lectures, workshops, exhibitors etc. Information will be updated regularly!
To register to the congress: https://ibos.nemtilmeld.dk/126/
---
Save the dates! Wednesday the 7th through Friday the 9th of September 2022.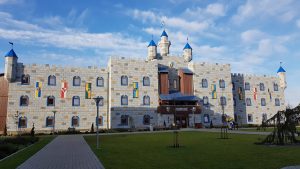 Vi glæder os til at se jer! / We look forward to seeing you!
Följ oss på sociala medier